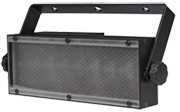 Blue/White switchable orientation lamp
The LSS LED Umgangsleuchte is designed for lighting work paths on galleries and corridors. With its compact design and energy-saving, maintenance-free white and blue light LEDs it is particularly suitable for the theater and studio operation.
The LSS LED-Umgangsleuchte can be switched between white and blue light to visually signaling the rehearsal and performance mode. The switching can either be done directly on the device with a three-point-switch or via DMX. Additionally to the control via DMX the LED-Umgangsleuchte can be dimmed. Also the control via DMX supports RDM and makes the control safer and more convenient.
Power-DMX is the power supply of the LSS LED-Umgangsleuchte. Up to five lamps can be supplied via the DMX-Thru-ports per supply line simultaneously. The LED-Umgangsleuchten can be delivered ex-works with different optional LED supplements. Using these supplements has an effect of the lighting areas. Available supplements are diffusers and frost glass with or without honeycomb louvers and various optical lenses.