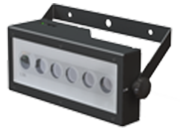 LED Orientation light
The LSS GBL DII is a compact LED orientation light for the professional theatre. Modern LEDs are an energy efficient, low maintenance, durable, easy to install alternative to conventional light sources.
The control and the power supply of the GBL DII are realized via Data Power. Data-Power means to loop the power supply though a DMX512 data cable. So all the necessary data and the power supply will be secured by one cable. The GBL DII orientation light can also be operated without a DMX signal. Using the DMX address switches the light intensity can be adjusted precisely onto per cent.
The GBL DII has a compact design and two different mounting brackets. Up to 25 luminaires can be operated with only one input cable. With that a fast and easy installation even more of these modern orientation light is guaranteed.
The GBL DII has a nearly rectangular illumination area. This is achieved by a beam angle of about 35° and 10°. So especial work galleries and corridors are lit more evenly, which in turn increases the safety of the staff tremendously.