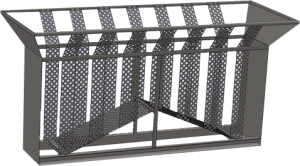 For scenic lighting in theatres LSS provides preconfigured flat cables in textile-fibre sleeves. These flame resistant textile sleeves provide an optimum protection against mechanical damage. The maximum flexibility of the cables is always ensured. A special processing prevents the cables from moving inside these sleeves. This results in keeping them forced to stay inside the cable baskets. The cable baskets can be made of steel or aluminium for weight reduction.
Flat stage cables by LSS are characterized by extraordinary detailed work. Attracting features include strain relief cable clamps with leather cuffs and well-finished edge protection through multilayer hems. With 390g/m² the sleeves are very light in weight.
Each LSS flat stage cable is a customized project-based production. They can be made in black or white colour. While retaining existing electric and/or mobile devices it is possible to retrofit these cables into existing installations.