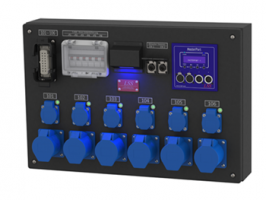 LSS junction boxes are made individually customized and project-specific and are designed for wall, ceiling and truss mounting. To ensure robustness, the junction boxes are made of 1.25 mm sheet steel and are powder coated in a colour according to the customer. The powder coating has excellent properties of the surface terms: Chemical resistance, abrasion resistance, corrosion protection and optical demands. The lids of the junction boxes are provided with a resilient seal. So the LSS junction boxes confirmed the requirements of IP 44 up to IP 54 (depends on the built-in devices and connectors).
Cables and wires are run via cable glands in the required diameter with integrated strain relief at the box sides outward. The number and type of the connectors are mounted, according to the customer and wired to terminals inside the junction box. Even the installation of orientation lights by LSS is possible.
All junction boxes have a protective conductor and a potential connection. Indicator lights are designed as LED lights, which guarantees a long lifetime combined with low heat load.