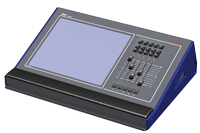 Digital slave consoles are components of a light control scheme in conjunction with a PLC. It provides a clearly understandable and easy to use touch screen to get quick access to the control of the PLC. If the digital slave console and the PLC are combined with a lighting atmosphere storage, such as a LSS MasterGate, the digital slave console can act as easy to use alternative for normal lighting consoles on a small scale.
The DNP XXL is a digital slave console in a desktop design. With this the slave console features a generous screen of 19 inch, five motorized fader channels and 15 programmable keys. The faders and keys can be programmed so that they can take over miscellaneous functions of the user interface, e.g. the graphical faders or buttons. This allows quick and direct controlling of lighting atmospheres.
The graphical user interface of the DNP XXL is fully configurable and its controls are clear and easy to recognize. The command and control elements can be represented either as buttons or animations in real time. Access to the digital slave console DNP XXL can be easily divided into access levels and these are individually enabled by password for defined user groups.